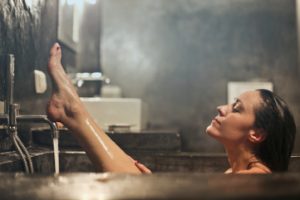 Has the time come for you to update your old and tired bathroom? It may well be if you have had it for a number of years, or if you have recently moved into a new home that requires a little bit of updating. If replacing the whole bathroom isn't something you can do right now, perhaps changing a few things in it could give you that sprucing up that you're looking for or bringing it back into the modern world if you are on a budget and have a lot of other, more pressing, renovations to make first. Before you do anything, take a look at the top bathroom trends to help you decide what to do – you may be surprised by one or two of them!
Small and dark
This is one that defies logic, but strangely works very well if done properly. With bathrooms becoming smaller and smaller as we move into apartments rather than big homes size is often not a choice. However, opting for some features to be in a darker colour, such as a wall, flooring, radiators, or cabinets, you can create that contrast that makes it look larger.  Simple, but effective! Grey is another big trend and you could combine the two to create a very unique relaxation space for your home.
J-shapes
Typically used for bathtubs, you can also find J-shaped bath-showers both of which are the ultimate in contemporary design. If you can't change anything else, opt for a J-shaped bath tub and you are bang up to date!
Patterned tiles
Stylish and trendy for a while now, this has not gone out of fashion and doesn't appear to be doing so anytime soon either. Use them as a feature for a wall or floor while keeping everything else simple and you have created a very luxurious-looking space without spending too much money.
Hanging vanity units
While vanity units have been on-trend for a while as well, the new twist is finding them as a hanging wall feature. Perfect for small spaces, they can replace cabinets giving you more room to move around without losing any of your storage space.
Digital showers
In a digital world, it wouldn't take too long before we had digital showers. Now you are able to set your water temperature and flow exactly how you like it. No more toggling around with dials first thing in the morning while you're still half asleep. And the absolute beauty of it? You only have to set it up once and after that you will have the same water flow and temperature every time.
Rimless toilets
The ultimate in new trends, to the point where they are so new on the market there are only a few stockists. However, once you have wrapped your head around the concept, we promise you that you won't look back. By removing the rim, water will still flow in the same way when you flush, but where you had a rim before that would trap dirt and bacteria, now you just have a clear area. Less to clean, more hygienic, and the latest word in new bathroom trends.
Metals
Gold and brass are making a come-back and even rose gold is becoming the latest thing to have in your bathroom. Make small changes without breaking the bank and be at the forefront of modern bathroom styles.
For more bathroom ideas and an experienced installation specialist, get in touch with us at Platinum Plumbers. You can find us on 020 8855 0361 or by emailing us at for some top ideas or for a free, no-obligation installation quote.