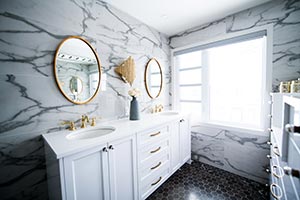 As we leave behind winter and another lockdown, many of us will be thinking about giving our homes a fresh new look, starting with your bathroom. No matter your budget, there are numerous steps you may not have thought of that can provide your bathroom with that much needed facelift.
Effective ways to refresh your bathroom
Lighting
Updating the lighting within your bathroom can be one of the more cost-friendly and effective ways of giving your bathroom a new look. The style you choose can have a huge impact on the space in your bathroom, making it appear bigger and more appealing to the eye. There are plenty of options available when it comes to replacing your outdated lighting fixtures, so you have the opportunity to select a fixture that will complement your bespoke space.
Walls
Whether its tiles or paint, a new colour scheme on the walls of your bathroom can give it the crisp new look you are after. White paint or tiling is another useful way to make your bathroom appear larger and complementing this with a large mirror can help to accentuate a spacious feel. For a hassle-free installation, consider adhesive tiles. With the ability to peel and stick these straight onto your wall, they provide a simpler, more cost-efficient option to standard tiles. Regardless of the colour scheme you go for, decorating your bathroom walls with paintings or canvas prints will go a long way when it comes to achieving the bespoke mood you are looking for.
Flooring
Your choice of flooring can have a significant impact on the overall feel you are trying to create within your new bathroom. Once you have worked out how many square metres you need to cover and the safety factors you will require, you'll have the ability to make your choice. From tiles and vinyl to a wood or stone finish, the options available on the market are endless. Our team at Platinum Plumbers have the expertise to handle the tiling of your floor for you, providing the quality finish you are looking for.
Hardware
After deciding on the colour and style of the new walls and flooring in your bathroom, the right hardware can tie everything together. Whether it be classic white or a darker style, the choice of furniture can be that ultimate factor that completes your bathroom renovation. From replacing old taps and showerheads to installing new cabinets, the options are endless.
Our installation services
At Platinum Plumbers, we can take care of the bathroom installation process for you. Our team are experienced in all stages, from plastering and tiling to pipework and drainage systems. Whatever you decide when it comes to redecorating your bathroom, allow our expert team at Platinum Plumbers to help you with every step of the process. For any enquiries you may have, call us on 020 8855 0361 or email where we will be happy to help!