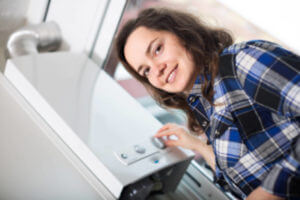 It is official, spring has arrived! That cold spell over the long Easter weekend had to be the last one of this year, surely? Whether it is or not, your boiler has worked very hard this year keeping you warm during numerous 'beasts from the East' and kept your hot water flowing when you needed that hot shower or bath to warm up after coming in from a cold commute. With the coldest weather over, it is time to start thinking about planning your annual boiler servicing. With a number of illegal engineers still operating, using one of them could put your home and family at risk of a gas leak, leading to an explosion or death by carbon monoxide poisoning. To help you avoid any potential disasters and get the best job possible done, this month we are focusing on the top things to look for in a boiler engineer.
Why do you need to service your boiler?
There are lots of reasons why, the most important being to stay safe and remain within the law if you are a landlord. It is a topic we have covered before so for a recap just take a quick look at that article here.
What makes a good boiler engineer?
There are a few things to look out for when you are looking for a boiler engineer:
Most important of all, they should be Gas Safe registered. They should have a card with them and you can also check by going on to the Gas Safe Register website.
Check that their qualifications are up to date – you can find this information on the front of their ID card.
They should also be registered to carry out the work they are there to do. Check the back of their ID card for a list of those jobs that they are licensed to carry out. Just because they can install a gas fire does not mean that they are also qualified to fit a new boiler.
If you suspect that the engineer on your doorstep is working illegally you can report them anonymously to Gas Safe Register.
What should they be doing as part of the check?
Once you have established their credentials and ability to do a boiler check and service, look out for the following:
They will inspect the boiler and its controls to ensure they are working correctly. This will involve removing the boiler casing to check the main components and will check for corrosion and leaks. Should any parts require cleaning, they will do that for you. If they need to be replaced they will let you know and will likely have spares with them for the most common problems.
They will check the gas pressure is operating within safe and normal limits.
They will check flue emissions to make sure they are within safe and legal limits.
They will replace the boiler casing and seal it.
All our Platinum Plumbers engineers are Gas Safe registered so you can rest assured we will only send the right engineer to you. For a boiler check, service, repair, or maintenance, or if you have any questions regarding your boiler just get in touch – just call or email us on 020 8855 0361 and .