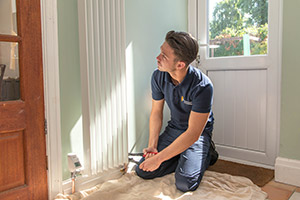 In any home, it is likely that the majority of your energy bills are down to your boiler and the heat and hot water it produces. Having an inefficient boiler within your property can increase the costs dramatically. Here are some quick and helpful tips for you to try at home that can produce a more efficient unit without having to arrange for a replacement to be fitted in its place.
Switch on the heating regularly
We know, it might sound insane, but by running your heating regularly, we really do mean all year round! Just once a month, even through summer, can prevent your boiler from experiencing faults which only become apparent in the winter or when it is too late and requires a costly repair or replacement. This act doesn't need to be carried out for any longer than 30 minutes each month to allow your boiler to gain energy efficient benefits.
Bleed your radiators
If you find that one or more of your radiators are taking longer than usual to heat up, or if they seem unable to reach optimum temperatures, bleeding your radiators will remove any additional air from the valve, allowing your radiators to obtain a heat boost whilst also resulting in cheaper energy bills.
The powerflush
If bleeding your radiators fails to improve their efficiency, it may be time to call in for a Gas Safe registered professional for the highly praised powerflush. It may not be a build up of air, but rather one of debris and dust that has been caught up inside your system. A powerflush works to clear any grime from within, allowing an energy efficient radiator to heat your home once again.
Top up the pressure
Whether your boiler pressure is too high or too low, it can cause effects on your unit which, in return, can cause it to run inefficiently. Check to see if the pressure if yours is between 1 and 2 bars. If so, you don't need to alter anything. If it is anything outside of that bracket, it is time to make a quick fix. You can do this by opening the filling loop valve which can be found underneath the boiler unit and keeping it as so until you reach around 1.5 bars.
Arrange for professional annual servicing
As efficient it is to be able to be able to adjust your boiler by yourself, there will always be some things that cannot be detected or repaired without the assistance of a Gas Safe registered professional. You should book at least one annual service to ensure the smooth and healthy operation of your heating unit.
If you are experiencing troubles with your boiler and are unable to find aid with the above mentioned tips, or if you have any other boiler query, please get in touch with a member of our professional team at Platinum Plumbers by calling 020 8855 0361 and we will be happy to assist you however we can.