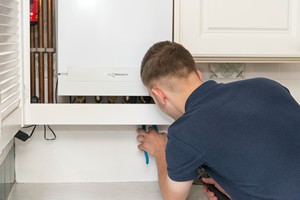 When you are choosing a new boiler for your home, there are various factors you may want to consider. You may have never had a combi boiler before, so let's take a look at the benefits this may have on your property. Depending on the size of your home and the amount of people that live there, as well as the existing boiler setup that you already have, it may be a more practical choice to opt for a vented or system boiler. Our team of experts are experienced in installation and servicing of all types of boilers, so let us explain the benefits you may see from choosing a combi.
What is a combi boiler?
Combi is short for combination, as these boilers combine high efficiency water heating and central heating into one unit. These boilers have quickly become the most popular choice in the UK and may be well suited to your home. These modern systems are all-in-one, so there is no need for a water tank or cylinder. A combi boiler heats water on demand, so that as soon as you turn on your shower or taps, these systems will get to work to provide the necessary supply. For larger properties, storage combi's hold a water tank so that they can supply multiple bathrooms at once, so you do not have to worry about capacity issues.
Benefits of a combi boiler
Quick installation
One of the reasons for the popularity of combi boilers is because of the speed of installation. There is no need for large water tanks and all this extra equipment, the compact nature of this system means that there is minimal pipework compared to traditional vented or system boilers. The installation process can be taken care of quickly, so that your water and central heating will be up and running again in no time.
Practicality
Part of the reason the installation is so quick is due to the size of combi boilers. They have become so popular due to the fact that the size difference is so drastic compared to a system boiler. There is no water tank or cylinder involved, so for smaller or medium sized properties you can easily install this in a suitable room without it completely taking over the space.
Efficiency
In terms of efficiency and how cost-effective combi boilers are, it outperforms traditional systems by a significant margin. Due to the fact that system and vented boilers must reheat the water in their tanks multiple times a day, using up more energy and having an effect on your heating bills. this puts a stress on their working parts and over time causes corrosion to key components. Over the years, this corrosion can reduce efficiency to as low as 50% whereas A-rated combi boilers can be over 90% efficient. This is only going to have a positive impact on your pocket, as less wasted energy means less wasted money.
If you decide to opt for a combi boiler, our expert team at Platinum Plumbers are registered installers for Viessmann and Baxi, and Gas Safe engineers for a wide range of manufacturers. When it comes to the boiler installation process, trust us for a straightforward service to get your new boiler up and running as quickly as possible. For any enquiries, give us a call on 020 8855 0361 or email  to see how our expert team can help you.