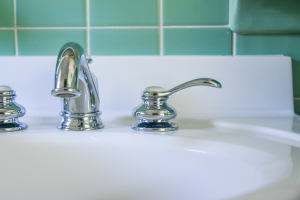 When moving home, your mind will become an active to-do list, overflowing with a range of things that need to be completed, but your family's safety should always remain at the top of that checklist.  It is important to check the plumbing of your new home as soon as you can. Here are our top tips to help you to tick off this job.
Locate the stopcock
The stopcock can be found in a number of places, such as under the kitchen sink, in the garage, under the stairs or in the bathroom, so it is important that you are confident of its location. Finding this will allow you to stop all water flow in an emergency, such as a leak, or whist maintenance is being carried out. As the stopcock is used irregularly, it may be a good idea to keep a cloth and form of lubricant near by to assist you they can become stiffer to turn off over time.
Check for leaks
It is important to observe your home and locate any possible leaks. These signs will appear as stains or patches of mould growth on the walls and ceilings or the appearance of rust on the radiators. You will also be able see if a leak is present in the house by examining the water pressure, although this one may be difficult to place an accurate assumption on as you may not be used to what the 'normal' water pressure is in your new home.
Examine the pipes
Lead pipes have been banned in homes for over 25 years but you can still expect to find them in houses built in, or before, the 1970's. Lead can dissolve from these pipes and into the water that your family drink from, affecting their health. It is particularly dangerous for pregnant women and children as I can slow down development. You can check if your pipes are lead by scraping a small area with a blunted knife or screwdriver. If this allows the pipe to appear shiny, it is highly that the pipe is lead and you should call for a plumber to make the correct replacements.
Water meter
You may be charged for the amount of water you use, so it is important to know where the water meter is. This will allow you to be aware of the usage in your new home. The meter can be located either with the stopcock, or outside your house in the pavement under an easily identifiable plastic cover.
Changes to the plumbing work
If you are planning to renovate the house or make any adjustments to the homes plumbing work, it is a legal requirement to agree these changes with your water supplier beforehand. If you are unsure of who supplies the water for your new home, you can use this postcode checker to find out. An experienced plumber will be aware of the rules of this law and can assist you while making sure that you comply with the rules and regulations.
If you are suspicious of a leak, need your lead pipes to be replaced or are just looking for some general advice in regards to your plumbing, give our friendly and experienced Platinum Plumbers team a call on 020 8855 0361 or drop us a line at  where we will be happy to assist.