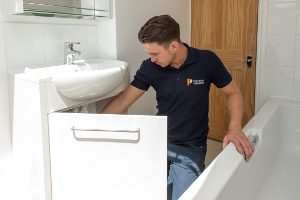 When it comes to finding and choosing a plumber you want to be sure that you find someone who is reliable and trustworthy. If you have a plumbing emergency or problem that needs to be solved the last thing you want is to inadvertently let a cowboy into your home who can make things worse and charge a fortune.
To help, we have put together a guide on what to look for in a plumber to make sure your home is safe, your problem is fixed, and you are not paying over the odds for the work.
Ask around
Neighbours, friends, and colleagues, particularly those who are local to you, are a great place to start. They may have a plumber to recommend – or one to avoid, even. Often, when people find a good tradesman they will want to stick with them and will be happy to recommend them to others. It's also a good way of seeing their work first-hand if that is something that you want to do as well. Alternatively, asking other tradesmen who you know is a good idea as they will have worked with plumbers they could recommend.
Check reviews and trades sites
If you draw a blank through friends and tradesmen, then a good alternative is one of the many trades listing sites that are available online. They will include filters to help you narrow down your search to your local area and will have reviews to help you select two or three to approach for a quote.
Qualifications and insurance
Once you have got a few names to contact one of your questions should be around qualifications and insurance. For more standard jobs a Level 2 Diploma in Plumbing and Heating should be sufficient, but if you are looking for work on your boiler or heating a Level 3 Diploma is more appropriate. For gas appliances they must also be Gas Safe registered.
Also check that they have insurance. The one to look for is professional indemnity as a minimum. This way you have peace of mind that, should something go wrong, you will not have to pay for any damage.
Experience
Qualifications are great, but so is experience. A plumber with a wealth of experience will have seen and dealt with most problems many times over and will know how to approach and tackle them with quick and cost-effective solutions.
Pricing
Most plumbers will take a look at the problem and give you a written quote. This way you can check the breakdown: does the quote include materials, is there a call-out fee or a minimum charge, and is VAT applied? This way you can compare with others' quotes if you have sought more than one.
References and guarantees
You want to look for a plumber who offers a guarantee for the work that they carry out. This shows that they have confidence in their skills and abilities, and you have some reassurance that in the event that the fix doesn't work, they will come back and put it right at no additional cost to you. Similarly, if you are hiring a plumber you do not know, it is worth asking for references or even examples of their work.
For qualified, reliable and professional plumbers ask our Platinum Plumbers team for a quote and details of our qualifications and insurance cover. Call us on 020 8855 0361 or email us at and we'll be happy to help.